Repopulation of New Orleans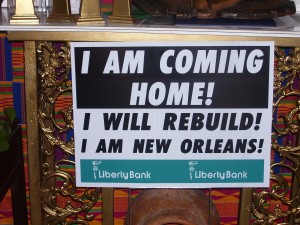 On 11.11.05, I landed in New Orleans for what was scheduled to be a four-day visit. Armed with a video camera, I was given a tour by Mathieu of his devastated hometown. It was a disaster zone like no other. There were tens of thousands of damaged homes and virtually no signs of life.
Eventually, we came upon a "camp" that was bustling with two dozen volunteers. It was the home of a community leader named Dyan French Cole, aka Mama D, who invited me to stay. All I had to do was wake up, turn on the camera and walk outside. People came from near and far to see Mama D. I soon branched out from her home base camp and went on to document the repopulation of New Orleans. I listened to over 1,000 relief workers and returning survivors. It was during this surreal period leading up to Mardi Gras, 2.28.06, that I found myself becoming a literary advocate for the Katrina survivors.
M. Darryl Woods, Lead Researcher
thecontraflow@yahoo.com