The Commissioner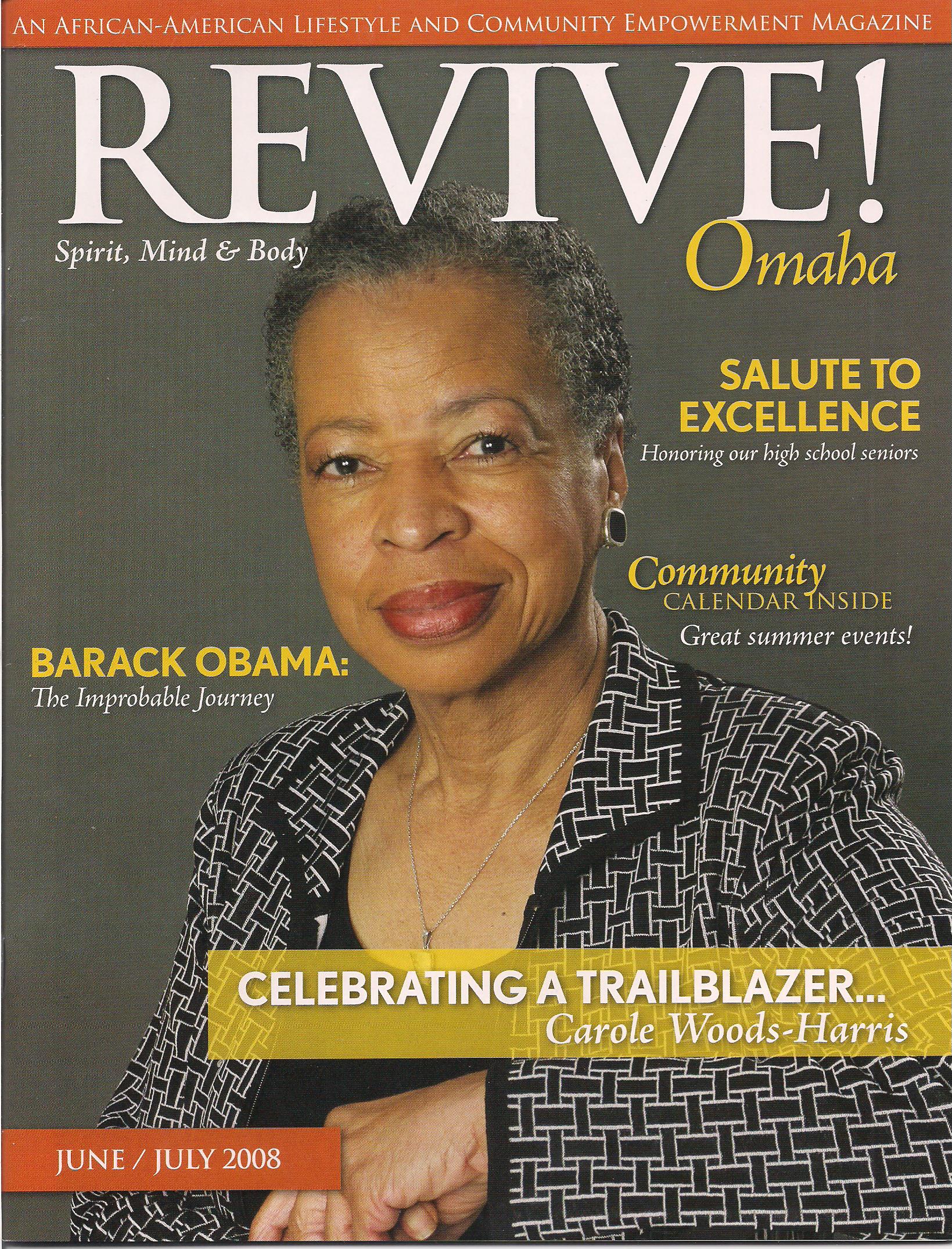 Carole Harris was elected to the Douglas County Board of Commis-sioners in November 1992, and re-elected in 1996 and 2000. She is the first African-American and one of the first women to be elected to the Board. In 1994, 1995, 2001 and 2004 was voted Vice Chair by her colleagues and in 1998 and 2003 elected Chair. In January 2005 she became the first African American to be elected to the State Board of Education representing eastern Douglas and Sarpy Counties.
Carole is a native of Omaha and honors graduate of Technical High School. After 30 years with U S WEST Communications, Carole took advantage of an early retirement opportunity. She majored in Busi-ness Administration at College of St. Mary. In 1989, she was a candidate for City Council from District 1.
A life-long Democrat, Carole has worked on various political campaigns including the elections of Bob Kerry, Ben Nelson and Peter Hoagland. She also twice headed the North Omaha Get Out the Vote (GOTV) office. She was a delegate to the 2000 Democratic National Convention in Los Angeles and the 2004 Convention in Boston.
Carole held various director and district level positions with U S WEST including assignments in directory publishing, data systems, strategic planning and corporate support. She is a graduate of Leadership Omaha as well as Influence, a leadership development program for women. She has also participated in corporate leadership forums and numerous management development seminars and is a past president of Leadership Omaha Alumni Association.
During her term on the Douglas County Board, Carole focused her efforts primarily in the areas of health and human services, juvenile services and welfare. She chaired the Nebraska Crime Commission's Juvenile Services Grant Committee two years and served as chair of Eastern Nebraska Human Services Board of Governors four years. She represented Douglas County on the Aksarben Future Trust Board six years. Carole held the following professional memberships: National Association of Black County Officials and National Association of Counties' Justice and Public Safety Steering Committee. She previously served on the National Association of Counties' Health Steering Committee and the Nebraska Association of County Officials Board.
Carole's greatest interest is service to her community. With more than thirty five years of commitment to community service. Carole is a Nebraska Children & Families Foundation Trustee, on the University of Nebraska Medical Center (UNMC) Chancellor's Advisory Council Executive Committee, the African American community's Empowerment Network leadership committee, and the Greater Omaha Chamber of Commerce Board. She recently served as Chair of United Way of the Midlands Board and continues to serve on its Executive Committee as Public Policy Chair. She was also recently Presiding Chair of the Conference for Inclusive Communities (formerly NCCJ), and a member of Alegent Community Benefit Trust.
Carole is a founding member of the Omaha Community Foundation's Women's Fund Board. She was past president of United Methodist Community Centers and past chair of the City Personnel Board. Carole is also past member of the Judicial Nominating Commission, past Board member of Nebraska Methodist College, past member of the Uta Halee Girls Village Endowment Board and is past president of Omaha Chapter of Links, Inc. Carole is a life member and past president of Nebraska Black Employees Association (U S WEST). She holds life memberships in the NAACP and Urban League and is a member of the Black Jewish Dialog.
Carole has received numerous awards including: In 1993 honored by the YWCA as an Outstanding Woman of Distinction; in 1994 recognized as a Distinguished Alumnus of Influence in February, 1997; received the African-American Award from the Durham Western Heritage Museum; in January, 1998, was honored by the Omaha Press Club with its "Face on the Bar Room Floor"; in April, 1998, received the Leadership Omaha Alumni Association Distinguished Alumni Award, in October, 1998, received Union Pacific's Black Employment Network "Salute to Black Omaha" award and in 1998 received the Nebraska Association of Counties President's Award, she received a National Community Leadership Award and in 2000 was inducted into the Tech High Hall of Fame. In 2004 Carole received Douglas County Democrat Eleanor Roosevelt Award, Douglas County Democrat Sam J. Howell Memorial Award and was inducted into the Nebraska Democratic Party Hall of Fame. Carole was appointed Admiral in the mythical Navy of the State of Nebraska by two governors (Nelson and Johanns). She was recently (2008) honored by the Nebraska State Education Association with their "Friend of Education Award", the 100 Black Women of Omaha with a Legacy Award in Political Advocacy and the Conference for Inclusive Communities with its Otto Swanson Spirit of Service Award. In 2008, she also received a key to the city of Omaha from Mayor Mike Fahey as well as special recognition for 20 years service on the United Way of the Midlands board and executive committee.
Carole has served the following organizations:
Current
• Afro-American Cultural Center, Charlotte (volunteer)
• Contraflow Inc. – The Contraflow Project & Afromation
• Good Shepherd United Methodist Church , Charlotte
• NAACP (Life member)
• Omaha Chapter of The Links, Incorporated (past President)
• True Destiny Christian Church , Charlotte
• United Methodist Church General Board of Pension and Health Benefits (National)
• Urban league (life member)
Past
• Aksarben Future Trust Board
• Alegent Community Benefit Trust Foundation
• Black /Jewish Dialog
• City Personnel Board (Chair, Mayoral appointment)
• Clair United Methodist Church (past Staff Parish Relations chair; current Administrative Council chair)
• Conference for Inclusive Communities, formerly NCCJ (past Chair)
• Douglas County Board of Commissioners (twice elected Chair)
• Douglas County Historical Society Board
• Eastern Nebraska Human Services Association (Chair)
• Greater Omaha Chamber of Commerce Board
• Judicial Nominating Commission – County Court (Governor appointment)
• Leadership Omaha Alumni Association (President)
• Leadership Omaha Selection Committee
• National Association of Counties (Justice & Public Safety Steering Committee)
• Nebraska Association of County Officials Board
• Nebraska Children and Families Foundation Trustee
• Nebraska Methodist College Board
• Nebraska State Board of Education (elected)
• Omaha 100 Board (affordable housing)
• Omaha Empowerment Network, member of leadership team
• Omaha Leadership Roundtable (Urban League)
• Omaha Section National Council of Negro Women (charter member, vice president)
• Omaha Women's Network (Charter member)
• Planned Parenthood Board
• State Personnel Board (Governor appointment)
• U S West Black Employees Association (President)
• United Methodist Community Centers Board (President)
• United Methodist Conference Pension & Benefits Committee
• United Way of the Midlands Board (past Board Chair; current Public Policy Committee Chair)
• UNMC Chancellor's Advisory Council (Executive Committee)
• UNO Alumni Association Board
• UNO Chancellor's Advisory Committee
• Uta Hallee Girls Village Endowment Board
• Women's Fund of Greater Omaha (Founding member and Vice President)
• Youth Leadership Omaha Committee
• YWCA Board (Vice President)
Carole is the proud mother of three; grandmother of four; and great grandmother of two.