Beyond the 7th Ward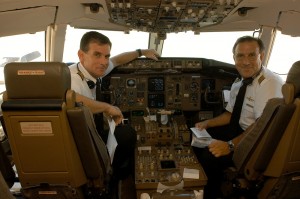 Coming to what I believed was the end of my research, I had just one question, which was for Delta Airlines. Why were the Omaha-bound evacuees not informed of their destination until before landing?
To my surprise, I was granted an interview by two Delta executives on 7.7.06, who as 757 pilots flew Delta CEO Gerald Grinstein into Armstrong Airport on a humanitarian mission to deliver provisions and pick up evacuees. After hearing Capt. Joe Kolshak and Capt Mike Quiello's amazing heartfelt accounts, my 7th Ward blinders were removed and Armstrong Airport quickly became the next major focus of our research.
I then started documenting other parts of the city such as Algiers, Lakeview, 9th Ward, N.O. East. It was then when I started comprehending evacuees migration pattern out of the city through major collection points like the Superdome, Morial Convention Center, Algiers Point Ferry Terminal, I-10 & Causeway and MSY. It was the beginning of my six-phased evacuation theory.
M. Darryl Woods, Lead Researcher
thecontraflow@yahoo.com