Before the Hudson River Landing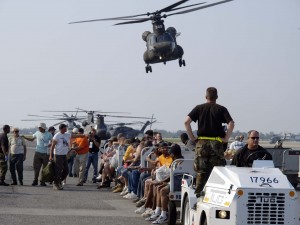 We were all fascinated by the amazing feat of Capt. C.B. Sullenberger aboard US Airways Flight 1549, credited with saving at least 150 lives. Even more publicized but less appreciated was the role of the neighborhood, local, state, federal and military responders, who in a direct and indirect way saved thousands of lives during the first week of Hurricane Katrina. Unfortunately, because of the political storm that developed on Pennsylvania Ave. during the peak of the rescue effort, thousands of responders were painted with a broad "unacceptable" stroke.
After forty-five months of Katrina research, we now feel this characterization could not be further from the truth and plan to prove it by publishing the forthcoming epic entitled: CONTRAFLOW: Six Degrees of Separation Following Hurricane Katrina, the Greater New Orleans Flood, and the Second Evacuation. The 'Six Degrees' represents our theory that the average flood victim was rescued six times: flooded 1-story > neighbor's two-story > school bldg > elevated hwy > major collection point > airport / bus staging area > host city shelters. It is our goal to educate the American public on what it was really like in SE Louisiana during Katrina without the use of blame tactics, demographic stereotyping, political agendas and media sensationalism. America needed a hero like Capt. Sully. Having said that he followed in the footsteps of thousands who were deployed to the Gulf Coast during Katrina to save lives while others were trying to get out or stay clear.
M. Darryl Woods, Lead Researcher
thecontraflow@yahoo.com